Franky Perez Album 'Crossing the Great Divide' Out Today
Franky Perez's new album Crossing the Great Divide is out today on Black Sea Music. Download or Stream HERE
"A lot of artists feel that the album they are currently working on is their best work. I've learned not to make those claims," says Perez. "What I will say is that this is by far my favourite experience making an album and I think it comes across in the hopeful and ambitious nature of the music… Listen to this one in your car, and preferably on a long road trip. It's a driving album, because that's how I wrote it. I was on the road with the city lights behind me and the road bending up ahead."
Perez's new songs have indeed been road tested after playing them on three different stages at the Black Deer Festival in the UK in front of cheering crowds and confirming that the songs translate live and work as well as they do in the studio. Kentonline in the UK said he "filled the packed tent with American soul and foot stomping beats. . . with a call and response style provoking the crowd to chant back together."
Leading up to the album release, Perez unveiled "The Great Divide" as well as "90's Love Song," of which Glide Magazine describes as "a persistently hook-filled song that gives a fluorescent glow to modern pop." The track was mixed by multiple-Grammy award winner Sebastian Krys—whose recent accolades include producing the latest Elvis Costello album.
The new album finds Franky—clean and sober for 9 years—returning to his roots to tell a story of self-transformation. Crossing The Great Divide is full of big melodies, hooks and sentiments that are real and often autobiographical.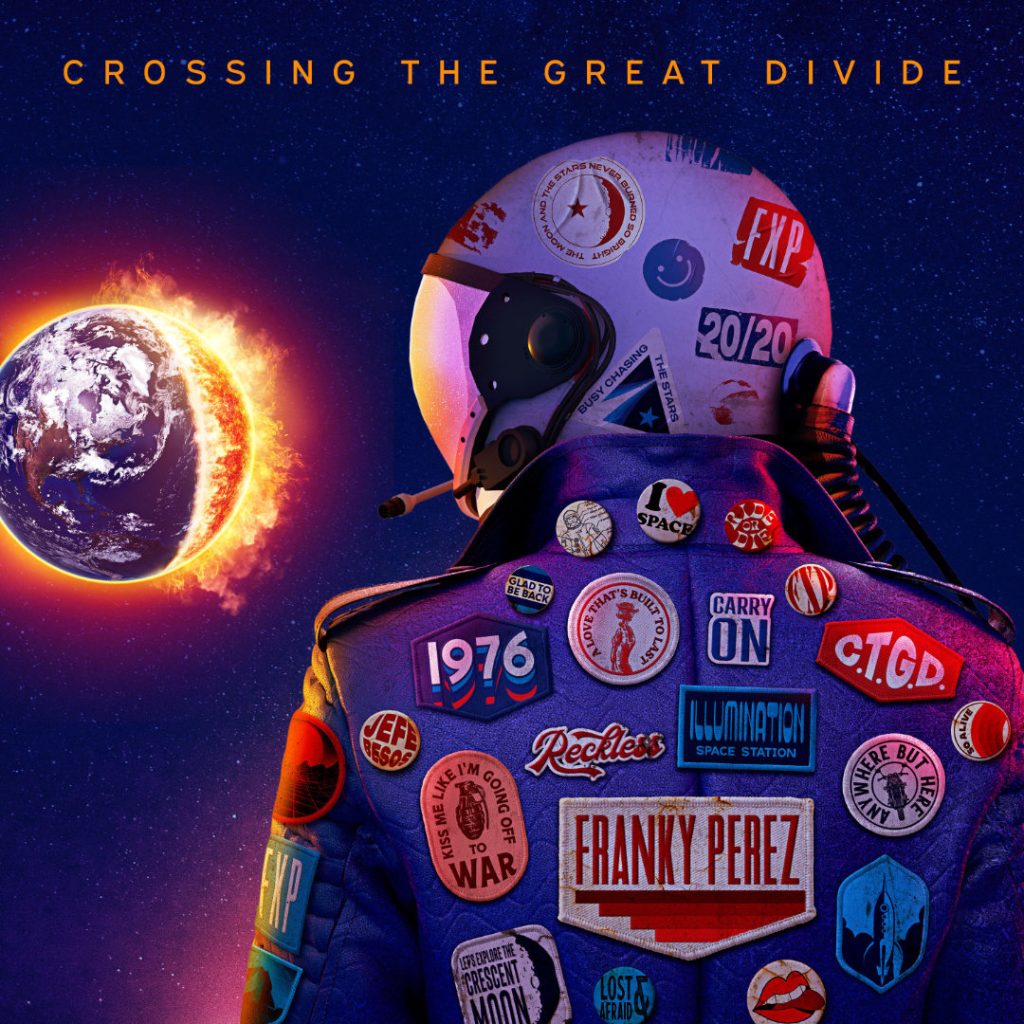 The new record runs the gamut of Perez's many talents as songwriter and multi-instrumentalist, and he played almost everything on it. "That's something I'm really proud of," he says. "I probably performed about 90% of the instrumentation on the album and I recorded and engineered it myself. If I felt that I couldn't get a certain feel, then I reached out to that particular player to get it."
With a commanding vocal presence and a charismatic personality, singer/songwriter Perez has worked with artists ranging from Billy Gibbons and Joe Cocker to Darius Rucker and Ringo Starr and has also performed with Steven Tyler, Cody Jinks, Chris Janson and Slash among many others. Along the way, Perez has released four critically acclaimed solo albums and his music was featured on six seasons of Sons of Anarchy. He has performed at major events, charities and music festivals all over the world. He joins Apocalyptica on tour as the band's leader singer this Fall, with dates across the U.S. and Canada.
Crossing The Great Divide is now available on all digital platforms https://ffm.to/ov5yvry
FRANKY PEREZ 
CROSSING THE GREAT DIVIDE
1. When I Think of You
2. The Great Divide
3. Samurai 
4. California 1976
5. What Gives You the Right
6. Illumination
7. Shadow Boxer
8. 90's Love Song
9. Anywhere But Here
10. 20/20 Vision
11. Leaning Into the Wind
Facebook: https://www.facebook.com/FrankyPerezOfficial
Twitter: @FrankyPerez
Instagram: frankyperezofficial