Chris Simmons Announces New Single and Live Show Supporting Paloma Faith
Acclaimed and rapidly rising UK singer-songwriter, Chris Simmons announces his inspiring, upbeat new single, 'Home', released on 8th July (from his forthcoming EP to be released this Autumn). Chris, who has a busy Summer ahead of him full of live performances, is also delighted to announce that he'll be performing live, supporting Paloma Faith.
"Simmons' voice can climb to Cat Stevens heights," said Stereo Embers, "or dive down deep into Nick Drake darkness, but no matter where he's singing from, he employs the kind of heart-stopping finesse that could transform a crowded room into a reverent hush in seconds…"
"A breath of fresh air," said The Times, "This young man is going to be very big indeed."
Living legend Jackson Browne agrees, calling him "A truly great songwriter with an incredibly distinctive voice."
Chris' music is marinaded in his love for classic singer songwriters, Americana, and folk/alt folk music. 'Home' — an uplifting, acoustic-driven folk track — stands as an excellent example of the material he has been writing.
"I've tried to record 'Home' many times but have only managed to properly capture it now", Chris explains "I wrote it in Lagos, Portugal, at a friend's holiday apartment. I had just come out of a long relationship and wanted to get away from everything familiar and soak up some new experiences and environments. I had a great time. After a couple of weeks, during a phone call home, I suddenly became aware of the feeling that wherever I am in the world, whatever the distance, the closeness I feel to the people I love would never diminish.
"It became more and more evident as I was writing the song that, to me, home wasn't a physical destination. I wrote it for my parents, but in doing so I realised that home can be a feeling, A person, A memory. It is permanent and can also be transient. I think there is something comforting in that."
The song showcases the sweet sound of Chris's distinctive, nuanced, feeling-filled vocals and guitar; accompanied by British blues harmonica artist Will Wilde and Simon Hanson (of Squeeze) on drums. The three gel together wonderfully well, creating a rich sound with an infectious, driving beat to it.
Back in the Summer of 2021, Chris was invited on tour by the great Sir Tom Jones, after impressing in a one-off show, standing in last minute for another act. Chris went on to play and captivate a string of stadiums opening for Sir Tom: just one man and an acoustic guitar.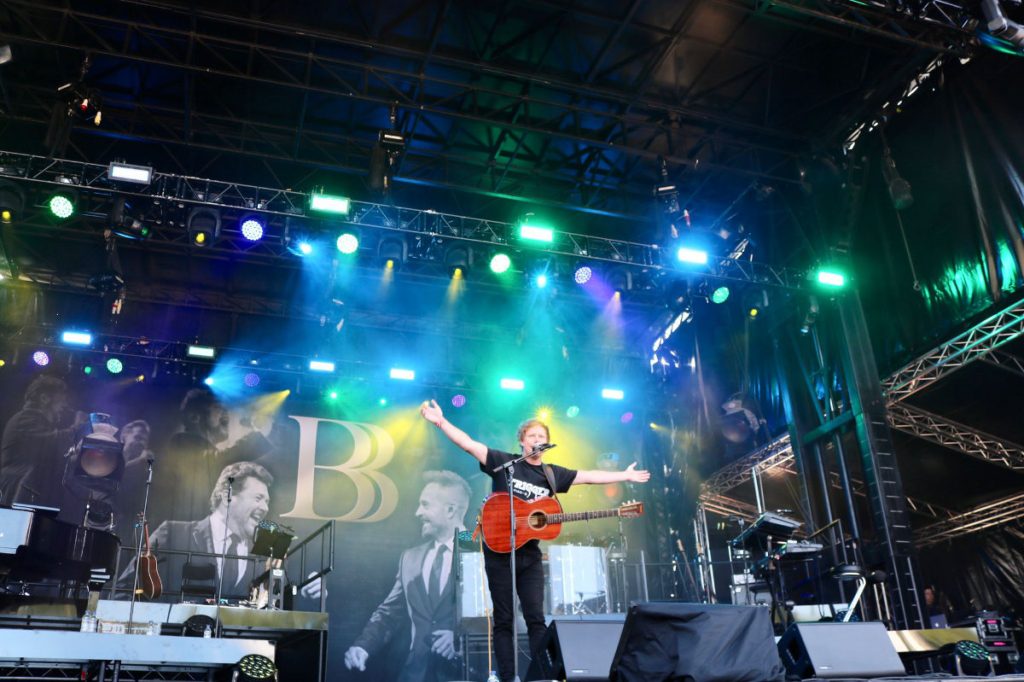 This Summer, he returns with the huge Summer single 'Home', a driving and powerful dedication to love and sanctuary, wherever we can find it, and will be performing at many gigs and events. Chris recently opened for Ball and Boe and will be opening for a fine range of artists (including Badly Drawn Boy and others to be announced).
Chris's latest announcement is that he will be performing live, opening for Paloma Faith, at Central Park, Plymouth on 9th July. Lucy Spraggan will follow Chris' set, before Paloma herself takes the stage. Tickets can be booked from the following link:
https://www.ticketmaster.co.uk/paloma-faith-plymouth-09-07-2022/event/1F005B44E1247B2A
"Cannot wait to play in Plymouth with Paloma," says Chris, brimming with enthusiasm, "She is ICONIC and seems like a lovely human being. My friends Vintage Trouble toured with her and said she was just the most amazingly warm person. This is such a big deal for me! It's a huge honour to open for her."
Check out Chris's latest single, 'Home', and make sure you catch him on the road this Summer. For all show information, please visit www.iamchrissimmons.com . In the words of The 405: "You need to give Simmons a listen."
Pre save the single here– https://found.ee/chrissimmons_home
Live Dates
June 30th – Open for Badly Drawn Boy Concorde 2, Brighton
July 9th – Open for Paloma Faith, Home Park, Plymouth
Website: www.iamchrissimmons.com
Facebook: https://www.facebook.com/iamchrissimmons
Twitter: https://twitter.com/iamchrissimmons
Instagram: https://www.instagram.com/iamchrissimmons/
Spotify: https://open.spotify.com/artist/0lMk8IAu3ix4G0O0IuM54A