Multi-Award-winning Jaime Kyle Announces Her New Album 'Wild One' and its First Single: 'Driving with the Brakes On', Featuring Kris Barras
Trailblazer for women in rock, Jaime Kyle announces her brand-new album and its first single 'Driving with the Brakes On', featuring Kris Barras. The album will be released this Autumn on Conquest Music and the single is out now.
Classic Rock AOR listed Jaime Kyle in their all-time Top Females in Rock. She was a trailblazer for women in the previously male-dominated musical domain and became the first female artist from Nashville to be signed to a major rock deal in New York (with Atlantic/Atco).
Jaime Kyle is undoubtedly a strong, talented and independent singer-songwriter. Her early solo career as a recording artist gained Jaime critical success and a loyal fanbase, but her heart always lay in the writing of great songs.
A breakthrough came when Faith Hill recorded the Jaime Kyle song 'Wild One' as her debut single. It shot to success in the USA Billboard charts spending four weeks at Number One on the Billboard Hot Country Singles chart: a first for a debut artist, as well as giving Faith her very first Number One! 
Jaime's songs were hot property and she was the writing name behind numerous other hits. The time has come for Jaime to once again give that superb voice to her own songs, and in advance of an album of new material out in Autumn, we have the single 'Driving With The Brakes On' featuring the amazing Kris Barras on lead guitar.
The album contains a glittering array of stellar guests from both sides of the Atlantic, joining Jaime on her return to the recording studio. It will delight fans of Classic Rock, Americana, Blues and AOR and anyone who appreciates a great song when they hear it.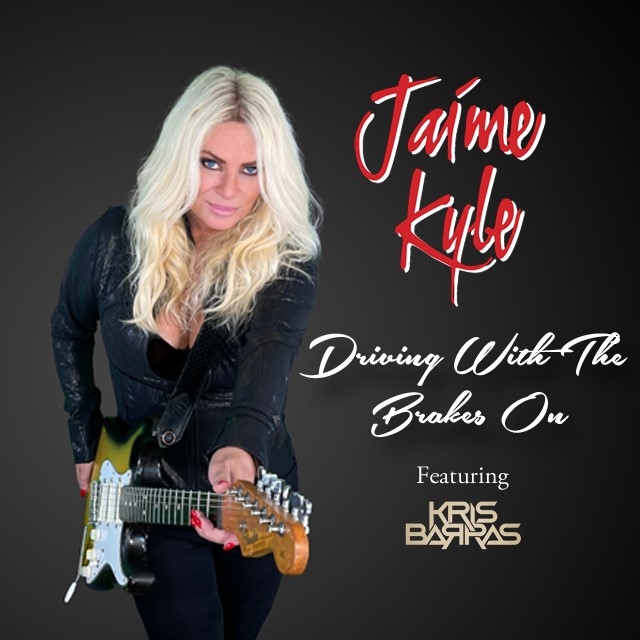 "'Driving With Brakes On' came up in a conversation I had with my sister," reflects Jaime, "Newly divorced and just starting to date, she said: 'It's like driving with the brakes on!'
 "I had stayed single for a long time and I said 'Yes! It is! You want to fall in love fast, but you don't really know them and at the same time navigating 'do I stop dating other people or do I go on with this person and keep going?' (Minutes to fall in, years to get out).
"Some people hide and some people show up. I told her she would know when it's right and it would be all green lights and go, go, go! It's about wanting to go and you keep hitting roadblocks."
A blistering groove and bursting with energy, 'Driving with The Brakes On' brings us a welcome return to the spotlight for Jaime Kyle.
Strap on the seat belts and put your foot to the floor: It's gonna be a fun ride.

Website: https://www.jaimekyle.com/

Download/stream the single  now on all digital platforms
https://smarturl.it/JaimeKyleDriving