Vaughnsday On The Road — Danny Vaughn Announces His UK Autumn Solo Tour
Much-loved Danny Vaughn — an artist who's earned the affection and loyalty of his many fans — announces his UK acoustic solo tour (named 'Vaughnsday On The Road' by his fans). Starting in Edinburgh on 24th November, the 11-date tour will run until 9th December and will replace the Snake Oil & Harmony Hurricane Riders tour originally scheduled.
In the rock firmament, Danny is probably best-known as the frontman of melodic rockers Tyketto, but his fabulous (in every sense of the word, thanks to some truly masterful storytelling) 2019 solo project 'Myths, Legends & Lies' also earned him acclaim aplenty, as did his joint acoustic project with Dan Reed: Snake Oil & Harmony, and he'll be drawing from all these facets on the tour.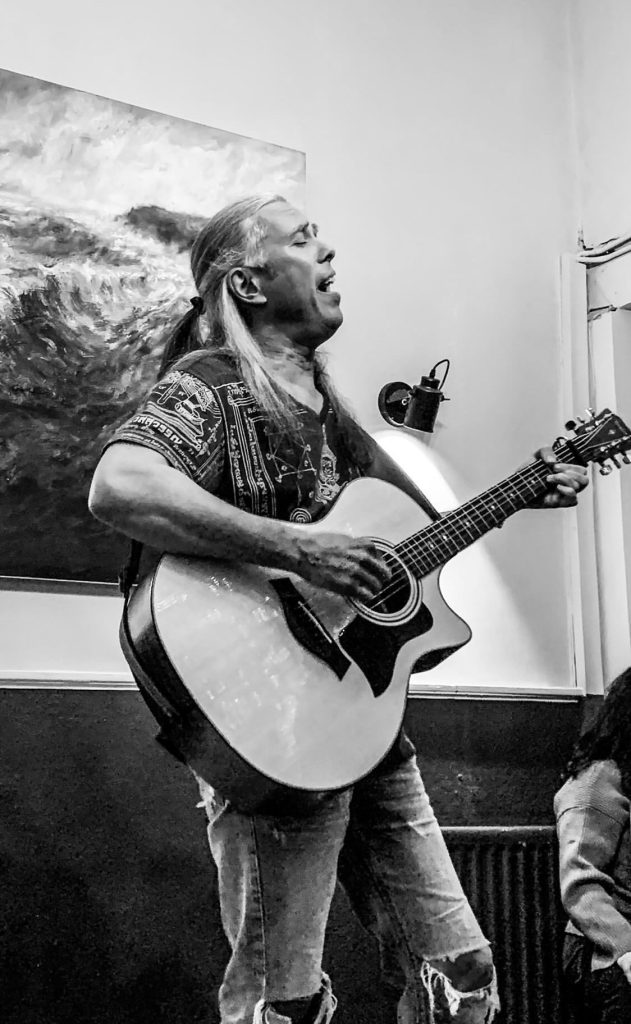 Snake Oil& Harmony were due to tour in the UK back in 2020, but were sadly unable to do so because of the lockdowns and restrictions on touring and live music. Whilst attempts were made to reschedule the gigs, in the intervening time Dan Reed's work as a screenwriter, filmmaker and media producer as well as a musician, took off and those commitments have impacted on his availability to tour with Snake Oil & Harmony.
Danny Vaughn is looking forward to returning to the UK and to the buzz of live performance once more. It's no surprise to learn that his loyal fans have loved his online shows and been actively involved in the preparation for the tour, including devising its moniker. At each venue, Danny will thus be playing requests, meaning each show will be completely different and a unique experience, and (as his fans know) Danny's live shows are known for their vibrancy, intimacy, and Danny telling tales and anecdotes — as well as for their vibe and musical excellence.
Danny will be playing songs from various facets of his career, including Tyketto, Snake Oil & Harmony's 'Hurricane Riders', and of course his acclaimed solo album 'Myths, Legends & Lies'.
Many have called 'Myths, Legends & Lies' Danny's masterwork. Earning 10/10 ratings (e.g. from Rockposer), ranked amongst the best albums of 2019 (e.g. Fireworks Magazine and Firebrand Radio) and gaining rave reviews, the album gained particularly strong admiration in the folk and Americana world, not least because of Danny's much-respected vocals, but because of his outstanding talent as a lyricist for telling stories in song.
Artree Folk & Roots Music Magazine, for example, felt that "All his years on the music scene have more than readied Vaughn for his solo career but with 'Myths, Legends & Lies' it really does feel as though he has taken himself to the next level as he creates his rich soundscapes of inimitable melodies as his musical nature evolves time and time again."
See below (and Dannyvaughn.com) for full details of the tour (including dates and venues) and book early to experience Danny Vaughn in his natural habitat: performing live, and expect atmosphere and crowd-participation aplenty! As Americana UK said of Danny's 2019 UK gig at The Black Heart, London: "With over 35 years of recording and touring already banked, he brings a tide of deep support with him as the audience participation levels soar on the more anthemic songs."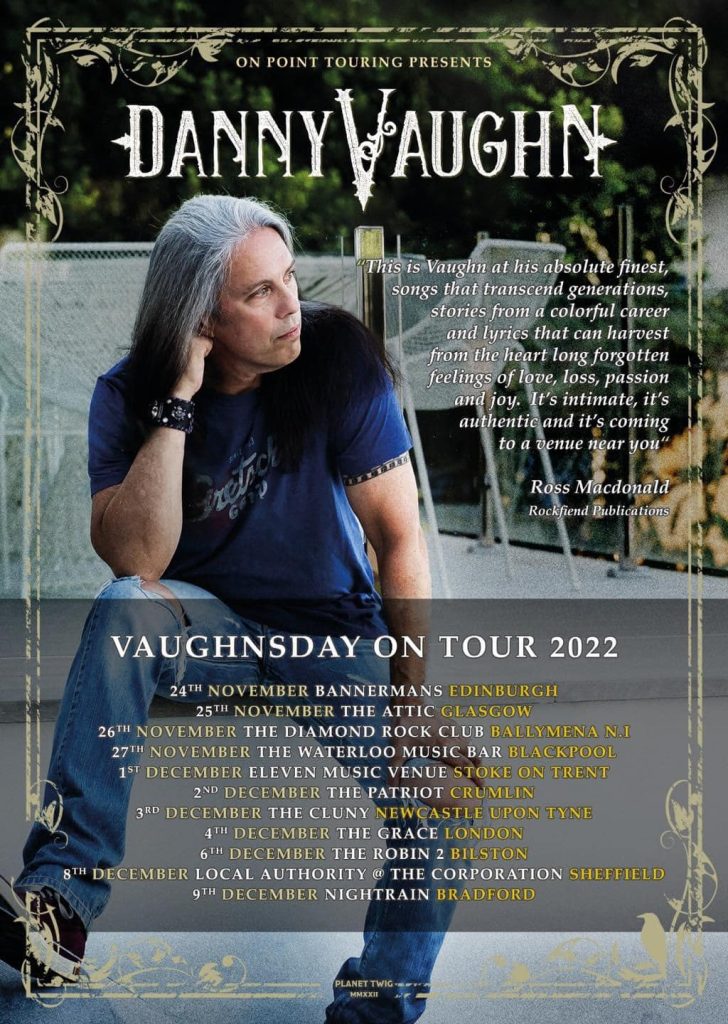 "Ticket links are posted at www.dannyvaughn.com."
The 'Vaughnsday On The Road' tour dates are as follows:
Edinburgh: Bannermans Thurs, Nov. 24
Glasgow: The Attic Fri, Nov. 25
Ballymena, N.I. The Diamond Rock Club Sat, Nov. 26
Blackpool: The Waterloo Music Bar Sun, Nov 27
Stoke On Trent: Eleven Music Venue Thurs, Dec 1
Crumlin: The Patriot Fri, Dec 2
Newcastle: The Cluny Sat, Dec 3
London: The Grace Sun, Dec 4
Bilston: The Robin 2 Tues, Dec 6
Sheffield: Local Authority@ The Corporation Thurs, Dec 8
Bradford: Nightrain Fri, Dec 9