Jessica Lynn Releases Her Fantastic Debut Album 'Lone Rider'
New York-based country crossover Jessica Lynn — crowned "The New Queen of Country Rock" by Ramblin' Man Fair — today releases her eagerly awaited, brand-new 13-track album 'Lone Rider' album.
Her music does indeed appeal to fans of Country, Country Rock and Americana, yet it reaches beyond those genres to wider Rock-loving audiences. Proof of that was seen and heard when Jessica played Ramblin' Man's Outlaw Country stage back in 2017 — her first performance at a Rock festival —where her cover of AC/DC's 'You Shook Me All Night Long' set the whole tent rocking, as did her own songs and stagecraft!
With a relentless international touring schedule of 14+ countries, a pair of Top 40/Top 50 singles on country radio, and three full-length concert television specials airing nationwide in the USA, the New York singer-songwriter has been becoming a household name.
She has been featured on the covers of Maverick Magazine & Guitar Girl Magazine and shared stages with some of the most iconic names in the business (such as Brad Paisley, Keith Urban, Loretta Lynn, ZZ Top, Richard Marx, Lonestar, Montgomery Gentry, and others). Her dynamic, high-energy performances — which showcase her powerful voice and multiple instrumental talents, playing piano, guitar, harmonica, and drums — have garnered rave reviews from critics worldwide and built a huge, loyal, global fanbase that can be seen in her social media presence, reaching over one million people a month on Facebook alone, with a combined follower count of over 750k fans worldwide.
"Lynn began writing songs when she was 10 years old," said American Songwriter, "As a classically trained pianist and self-taught guitarist, bassist, and drummer, she approaches her music with a full-bodied vision of a soundscape as it comes to fruition. Her deep knowledge of instrumentation also supports her role as a bandleader, allowing her to effectively communicate with each member as they learn a new song.
"The sonic cohesion of her band is ever-present in her typically styled performance of what Lynn describes as "country arena rock."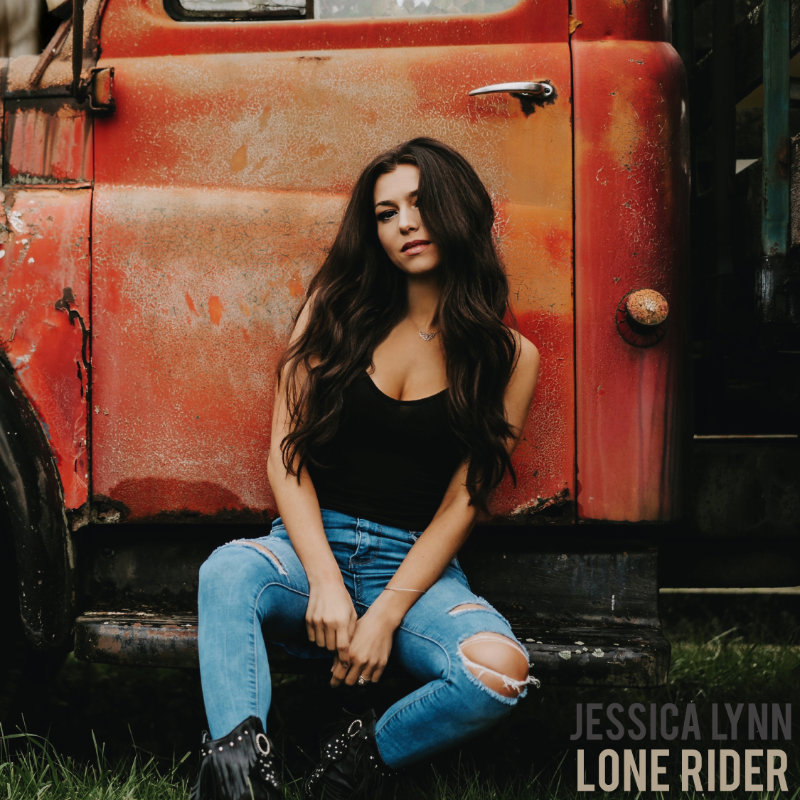 American Songwriter praised not only Jessica's strength in "country arena rock" but also called her "genre-defying": "As a native New Yorker," they say, "the artist's foundational country is heavily laced with rock and blues edges, as well as tinges of pop and soul." What's more, the influential magazine proclaims, "Love has its ups and downs and Jessica Lynn has the soundtrack for your emotional ride."
That's certainly true of the songs brought together on 'Lone Rider', which reflect on many facets of love from the euphoric, reckless rush found in 'Getaway Car' and the deftly drawn love triangle of 'Better Than That' to the yearning and loss that gets given full voice in the power ballad 'Run To'. An eleventh-hour addition to the album — 'The Morning Always Comes' — adds a particular part of the experience of love, from an unusual, perceptive angle: something Jessica Lynn's eloquent, evocative songwriting has become increasingly adept at doing.
Jessica herself is delighted to now be releasing her album: "Lone Rider' is the accumulation of two years of hard work. After losing a 100-city, 15-country world tour over the past few years, repeatedly — due to pandemic restrictions, creating this record was the biggest passion project I've ever taken on. A collection of stories of my life, as well as a combination of all of the styles of music I enjoy, this record speaks volumes about me as a person through the lens of country, rock, blues, soul, and pop. I have been waiting a long time to share it and am so excited that this day is finally here!"
Check out Jessica Lynn's amazing debut album 'Lone Rider', Now available on all digital platforms http://snd.click/lonerider