Kira Mac Announce Their 'Downfall' 9-date headline tour
Rising like a rocket, maxxed-out rockers Kira Mac announce their 'Downfall' 9-date headline tour: an impressive feat, given that the band is not yet one year old! But this is a band that's been making a hell of an impact, making noise and earning rave reviews from many a reviewer.
Kira Mac previously undertook an 11-date tour, through England, Wales and Scotland, to support the launch of their debut album 'Chaos is Calling' and is keen to get back to live touring. 
"We're so excited to get back out on the road!" says the band's eponymous powerhouse frontwoman Kira Mac (a.k.a. Rhiannon Hill), "It's even bigger and better than last time! Playing our songs is the whole reason we do this, and getting to go back out on tour and have a party every night on stage is what we love the most!" 
Last year, Steelhouse Festival were so impressed with Kira Mac, they created a slot, especially for them. Mark Jeeves of Planet Rock called their set 'barnstorming' and called it one of his highlights of 2022 and John Norman identified them as one of his 2022 highlights (for their Planet Rockstock performance) and flagged them up as 'ones to watch' in 2023 Planet Rock made their debut single 'One Way Ticket' Track of the Week, within just two weeks of release. All five Kira Mac singles have now been Playlisted on Planet Rock including their latest single 'Downfall'  

What's more, the band performed a session on Radio 2's prestigious programme The Rock Show with Johnnie Walker. They also landed the High Hopes feature in Classic Rock and most recently a 'My Planet Rocks' session.
All this for a band debuting its first album, shows extraordinary promise. "This is surely the start of something special," prophesised Fireworks Magazine.
"Chaos Is Calling. But so is success, critical acclaim, adulation and more," so said RushonRock
Lovers of rock, blues rock, indie rock and all points in-between seriously need to check out Kira Mac's album, available now on all digital platforms and CD  / Vinyl via the band's online store.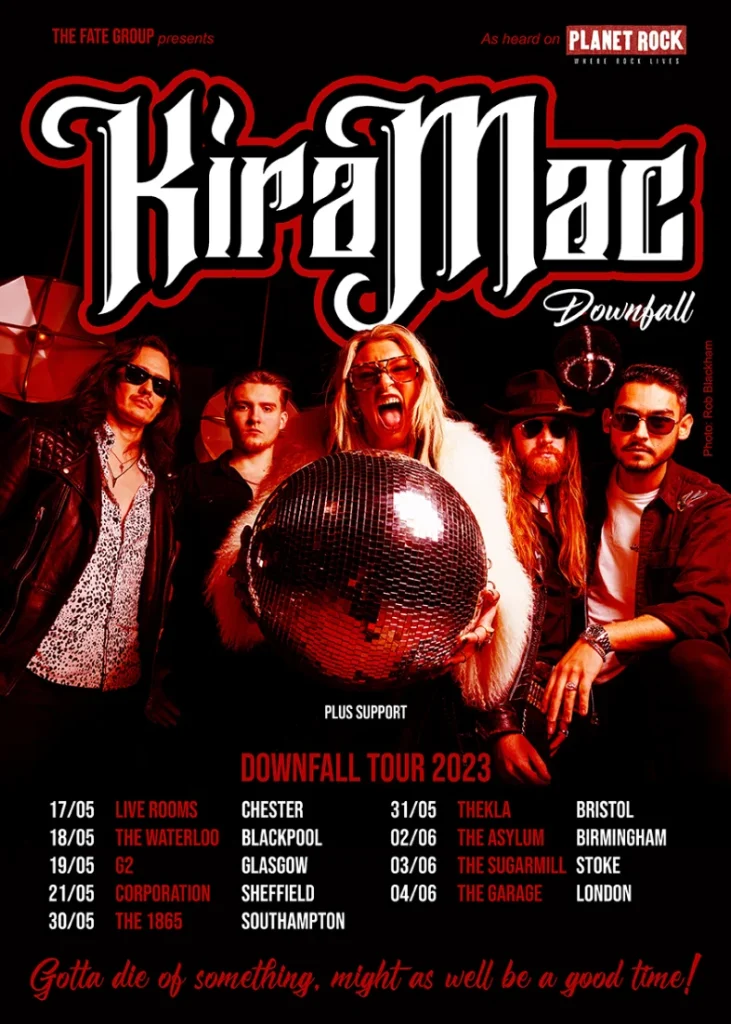 TOUR DATES
17/5 – Live Rooms, Chester
18/5 – The Waterloo, Blackpool
19/5 – G2, Glasgow
21/5 – Corporation, Sheffield
30/5 – The 1865, Southampton
31/5 – Thekla, Bristol
2/6 – The Asylum, Birmingham
3/6 – The Sugarmill, Stoke
4/6 – The Garage, London
Check out the band's official website, Facebook, Twitter, Instagram and YouTube.
Featured image by Rob Blackham.